We're four episodes into Season Two now.

First, "School Hard". Man, remember when Spike was fun? Now when Buffy asks him, "Who are you?" I had to say, "The guy who's eventually going to derail your life and your show."

And, aw, Joyce is so awesome in this one. I'm loving the Joyce-Buffy mother-daughter dynamic this time through. I don't think I really appreciated how important it was until it was gone.

And then.... "Inca Mummy Girl"! I hadn't seen this one in forever. D had a total manly squeefest when Oz showed up. Oz/Willow 4evah!

And some great Xander-Buffy stuff at the end. D said that I usually pull my OTPs out of my ass, but that there's actually a pretty good base for Buffy/Xander.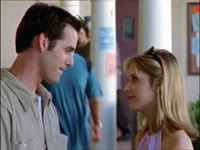 Buffy: I remember how I felt when I heard the prophecy that I was gonna die. I wasn't exactly obsessed with doing the right thing.

Xander: Yeah, but you did. You gave up your life.

Buffy: I had you to bring me back.




I love them. I love Xander. He was totally Key Guy back then, and it sucks that he got shoved into the background by the end. Can we just stay in Season Two forever?