Was I dreaming or did these two actually have a conversation? Matsuoka Siblings for the win.
And in the other corner, the Doofus Brothers, who are like the two Xanders. (I can compare anything to Buffy!) You think Seijuro is cooler than that, but then he devolves around Momo. And Rin, instead of facepalming all the time, maybe nip this in the bud. "Hey guys, as awesome as it is that you both want to bang my baby sister, maybe keep it to yourselves."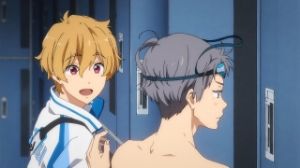 Had it not been for Rin and Gou's bit, this would have been my favorite moment. Goggle-snap of fail! omg, poor Nitori and his little mancrush on Rin. Oh, and thanks so much show, I say sarcastically, for pretty much responding to my complaints about all the boob fanservice in other series by making me think about Nitori naked under his towel. I did not need that. (Nagisa, you know I love you, but when you keep calling him Ai-chan despite his repeatedly asking you to stop, it kind of makes you a dick. I know you're just being friendly, but you know how much it sucks to have your feelings completely disregarded, right?)
There may have been cheering in our house when Nagisa and Rei won their heats. And even if I'm disappointed in the lack of originality with Nagisa's story, at least there was some followup instead of never being referred to again. I'll still adopt you, though! (D thinks this makes me creepy. I'm not the one with a body pillow named Mio, but whatever.)
Why didn't we get to see Rin's butterfly?? I guess we'll see it in the relay. And I felt Gou's dilemma during Rin and Haru's race. Poor Rin, having to hear his sister chant "Go, go, Haruka!" But who do you root for?
D: I'm confused. Who is your favorite?
Me: I love them all.
D: But who is your favorite though?
Me: I love them all!
D: If the house was on fire and you could only save one, who would it be?
Me: Grab hands and make a chain, boys! Leave no man behind!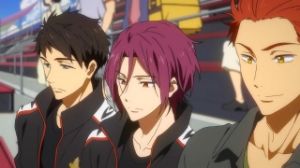 Geez, Sousuke, are you going to swim or just sulk the whole damn time? What are you even doing here? You can stay in the house on fire.
Seriously, the biggest thing in the episode is the Haru-Mako relationship, and I barely remembered to say anything. There was a sibling theme throughout, and they are clearly brothers from different mothers, but what's going to happen after graduation?
Tags: free!
Current Mood:

busy
Current Music: dog days are over--florence and the machine