OMG
The Free! bonus episode has been on my calendar for MONTHS, and last night, I finally got to see it.
First, let's rediscover the utter hotness that is Rin: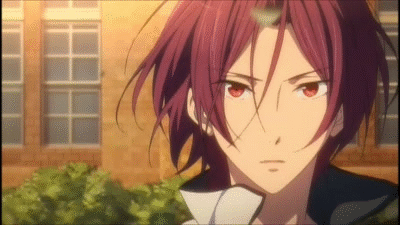 Watch this as long as you need to. I'll wait.
The good about this episode: Besides being completely silly, it let different characters interact in new combinations, which is something I always enjoy and appreciate.
The... well, depends on your preferences... about this episode: If you're a slash fan, you probably found fanservice for your pairing of choice (especially Rin/Haru, but more on that later), but if you're a weirdo het fan like me, pickings were slim. Gou barely appears (double entendre not intended, but it's staying), and no Ama-chan, which sucks, because I would've loved to see her reaction to this (image under the cut to avoid spoiling the joke):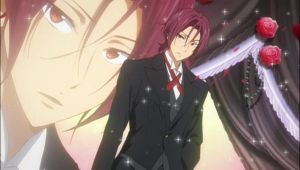 OMG butler!Rin. I want one.
Image under the cut to avoid spoiling the joke, but if you've come this far without seeing the episode, any spoilage is all on you now. To elucidate: The Iwatobi boys come to Samezuka for the cultural festival, and the swim team traditionally holds a Maid Cafe From Hell. Third-years are exempt from the mortifying maid outfits and dress as butlers instead, though I imagine as captain, Rin would have exempted himself anyway.
After the cafe, the boys divide into teams for a survival game by drawing lots.
I want Rin to explain things to me forever, in English, in Japanese, doesn't matter, I'm not listening. You just wear the hell out of that uniform, boy.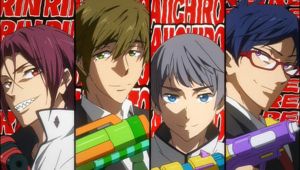 So here's Your Red Team. Awww, nice try at looking menacing, Ai-chan. We all know you're dead weight.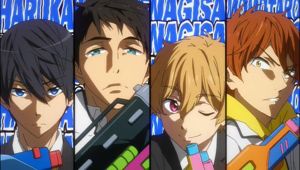 And Your Blue Team. Two stoics and two goofballs. That sounds about right.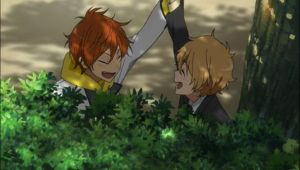 So, yes, it's the friendship I never knew I wanted....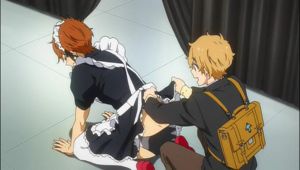 .... even if it did start with some serious sexual harassment. Seriously, Nagisacchi, wtf?
Other interesting combinations seen in the episode include but are not limited to: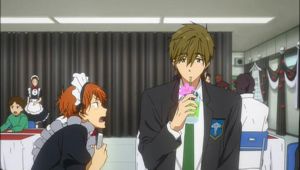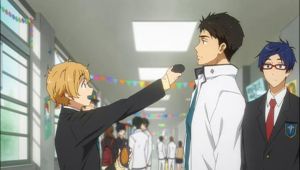 Sorry, your name is Sou-chan now. Just go with it.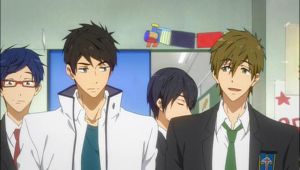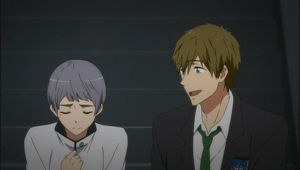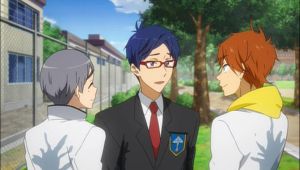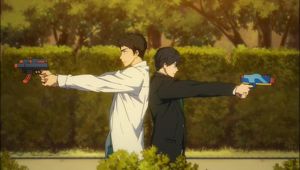 One of the best things about this was Haru and Sousuke not only working together but becoming kinda friends. Awwwww.
Also great about this was how dramatically everyone getting "shot" was treated, and that's why it reminded me of
Community
's epic "Modern Warfare".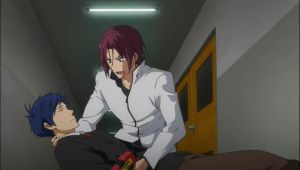 "By Grabthar's Hammer, you shall be avenged!"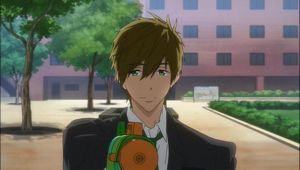 You know, I love Makoto, he's an absolute sweetheart, but only on two occasions have I ever really found him hot. Well, now make it three.
And while it sucked that Kisumi seemed to get more facetime than Gou, at least: 1) it was awesome how everyone threw Kisumi in the line of fire, and 2):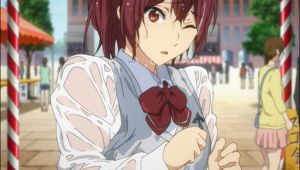 At least there was some fanservice for like the three guys watching this. And Momo died happy.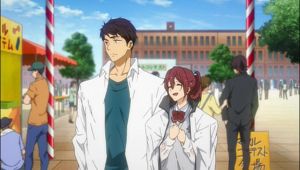 I will not ship this, I will not ship this, I will not ship this, I will not ship this, I will not ship this......
And speaking of things I will not ship: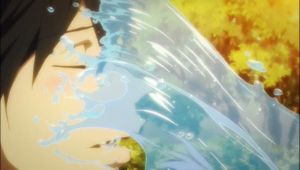 The final Rin-Haru showdown was so literally gay that I couldn't actually believe it. Thank God at least Rin threw his gun at Haru like "What the shit is wrong with you?"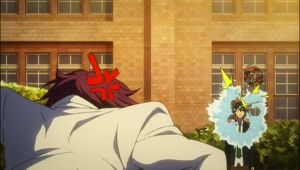 So spoiler alert, Rin (and therefore the Red Team) is your winner. Although aren't we all winners here?
Let's appreciate that hotness one more time.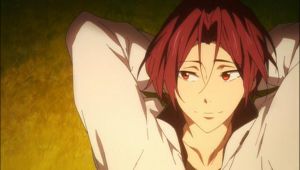 I still need a movie. In the worst way.
Tags: free!
Current Mood:

amused
Current Music: the middle--jimmy eat world