Since we're the fun aunt and uncle from Florida now, for Christmas we got our new nieces a stuffed dolphin and a stuffed manatee, and gave them to them when we were visiting last month.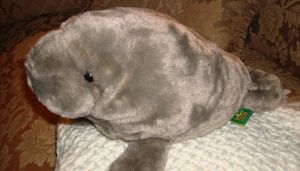 And the manatee was such a hit that D said we should get one to take our realtor's baby when we go over there tomorrow. So we did. Not bad for twelve bucks. Oh, Amazon Prime, why do you keep giving me free trials? You know I don't want to pay for you but will gladly take your express shipping during December.


One of our neighbors called last night to thank us for the gettogether and for the cookies, and asked if I wouldn't mind sharing the recipe. I said, nope, it's Martha Stewart's, so you're welcome to a copy of it. I hadn't made that recipe before, so I'm glad it was good enough for people to specifically call about!


I'm trying another new recipe for the cookie swap tomorrow. Like the last one, D balked when I described it and said, "Just make chocolate chip", which, anyone can make chocolate chip, I want to do something special. Of course now that they're done he's had two and is all omgnomnom about them, so IN HIS FACE. (These I was nervous about though, because they involve caramel, and I'd never made caramel, so I did have some chocolate chips on standby just in case.)



One good thing about having people in our house was it made us spend two days cleaning like mofos, and the house hasn't been this clean since we moved in. D took lots of pictures to show my grandma when we drive down to visit her next week. I can't believe it's taken us this long to get back down there now that we're only six hours away. We suck.