I hate my job, and really the only thing that gets me through is listening to my anime playlist which I loaded up with most of the Free! character songs, and driving home the other night, one of Nagisa's songs came on, and I just thought, "Man, I need some Nagisa."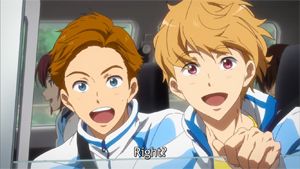 AND WE GOT A TEAM DRINK EPISODE! YAAAAAAAAY!




Oh, and Sousuke. For real, he has nothing else to do.




I really, really questioned Rin's decision to make Ai captain given that it seemed based on friendship and not much else, but he's taken a level in confidence or something. Okay, Ai-chan, you rock on.




Momo, meanwhile, is still a damn kid, and I love it. He's the same age Rin, Makoto, and Haru were in season one. Yep. He's somebody's senpai. Yep.




Yay, backstory and personality for the new kids! And Rei is captain, which I figured but I guess I never noticed if it was official, and I really, really wanted it to be Nagisa, because the team would not exist without him, but D says Nagisa don't care about that, and yeah, I guess.




I still want a Nagisa hug. I want to bake him cookies and take him on roller coasters and encourage him to keep working hard. I love him so much. I added "Adopt" to Kill Shag Marry, because you adopt Nagisa.




Hey (hey), you (you)
I'mma steal your boyfriend
Cuz (cuz) I (I)
need a place to crash, man

This show needs to not put Natsuya/Rin/Sousuke in my head.

Natsuya's such a damn flirt. In that Syaoran/Tomoyo fic that's been kicking around in my head for years, the reason Meiling wasn't around was because I wanted her to move to Sydney and become a swimming groupie, not that I could ship her with Rin because he's just too earnest for her, but Natsuya? I could totally crossover ship Natsuya/Meiling.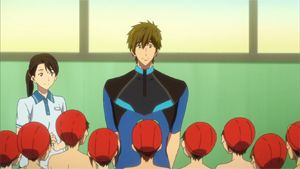 Gah, Mako is going to have so many little girls in love with him.


Me: That's two weeks without Rin. I miss him. But yay for all the Nagisa. He brings sunshine and happiness to my heart.
D: What about me?
Me: Oh, yeah, you too, sure.